Meeting with the Commissioner for Justice, Didier Reynders
–
On 13 March 2023, the European Commissioner for Justice, Didier Reynders, met with the President of the Council of the Notariats of the European Union (CNUE), Peter Stelmaszczyk, in order to exchange on issues of common interest. In particular, two upcoming legislative proposals were at the heart of the exchange: one on Digital Company Law scheduled for 29 March, the other on the Protection of Vulnerable Adults scheduled for 31 May. On this occasion, Peter Stelmaszczyk expressed to Commissioner Didier Reynders the full availability of the European notariat to support the Commission's important work on clear rules and efficient procedures for the benefit of citizens and companies. Regarding the Digital Company Law initiative, Peter Stelmaszczyk particularly highlighted the importance of reliable business registers for doing business in the European Union. The Notaries of Europe are ready to play their essential part to contribute to ensure legal certainty in company law for the benefit of citizens, businesses and public authorities.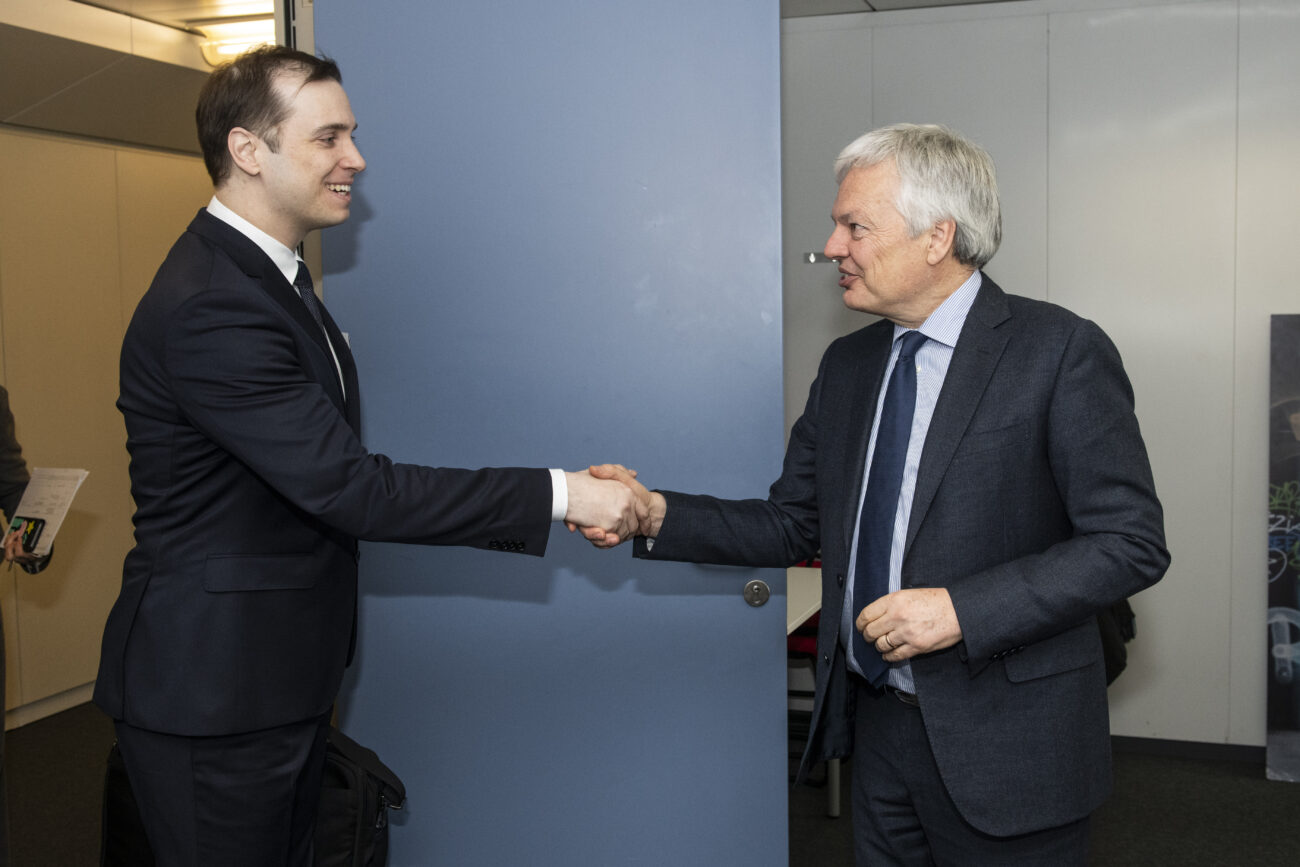 Among the points of cooperation to be considered, Peter Stelmaszczyk suggested the establishment of a close cooperation with the Commission in order to set up a training programme for European notaries and other public stakeholders on the new anti-money laundering single rulebook, which will be applicable in the near future and that the Notaries of Europe strongly support. Commissioner Reynders listened with great attention to such proposals.
Finally, the Ukrainian crisis was also discussed. The CNUE President explained the important role of notaries as public authorities in the implementation of the sanctions. He stressed the readiness of the European notariat to become more involved in the Commission's "Freeze & Seize" Task Force, in order to support the sanctions enforcement, address the practical concerns of legal practitioners and to deal with the new reporting obligations. Peter Stelmaszczyk also highlighted the current situation of Ukrainian notaries and the importance of the preventive administration of justice in Ukraine. Ensuring legal certainty and guaranteeing the rule of law will be key for the reconstruction of Ukraine. The idea of using funding from a possible Marshall Plan to support the Ukrainian notariat was presented and CNUE expressed its readiness to get involved in this project with the – potential – support of the European Commission. Commissioner Reynders was attentive to the concerns of the notariat and indicated that, as a first step, the Commission is trying to assess the damage caused by the war and will then start a consultation process with Ukraine to find out its wishes and funding needs. The Notaries of Europe expressed their willingness to closely cooperate with the Commission's initiative and, in particular, contribute their expertise in protecting property rights and reliable business registers: key factors in any reconstruction initiative.