_Notaries
MAPE Successions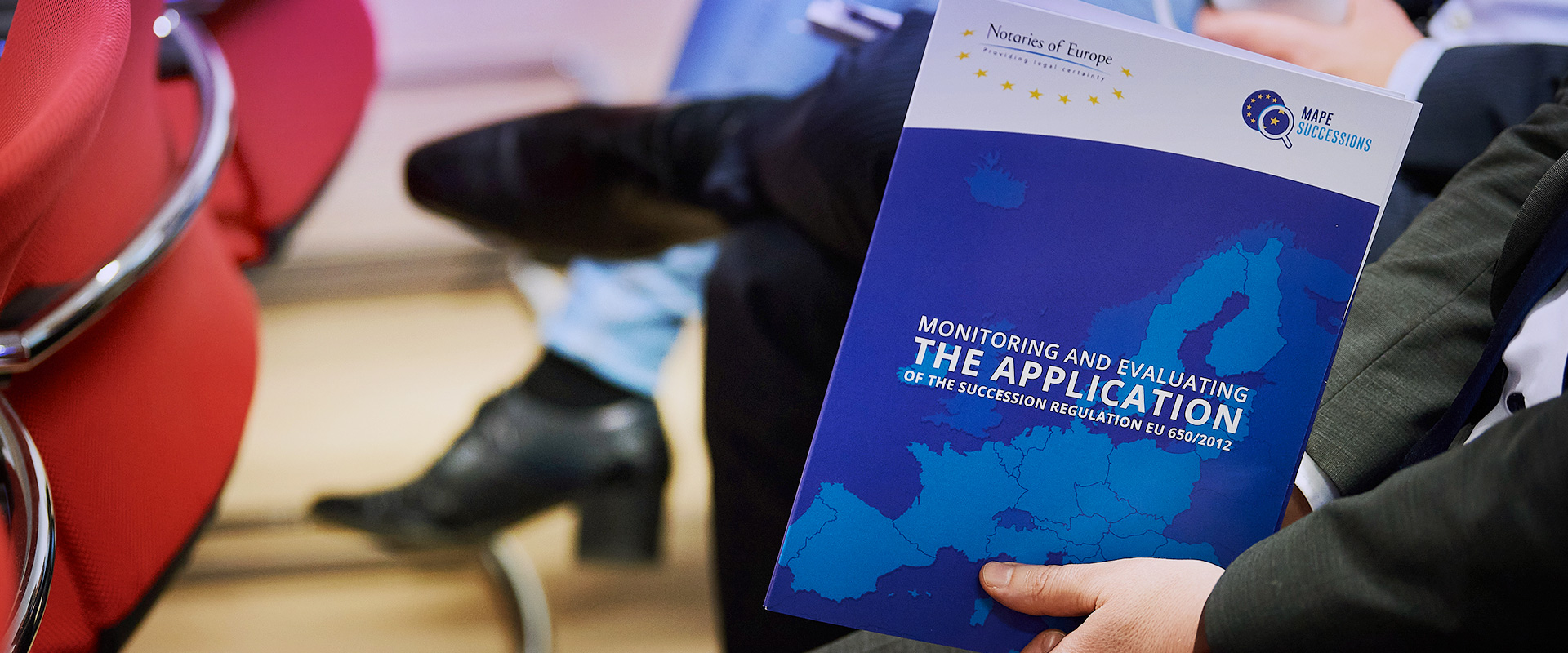 Monitoring and evaluation of the European regulation on successions
–
The "MAPE Successions" project is a major EU co-funded initiative to assess the implementation and impact of the Succession Regulation (EU) No 650/2012 in 22 EU civil law Member States. The aim of the project is to provide qualitative and quantitative information on the operation of the Regulation and its effects on notaries and citizens.
The project has put in place a robust monitoring and evaluation methodology to ensure the accuracy and reliability of the data collected. The data collection phase involved a large number of experts, institutional stakeholders and over 2,100 notaries, who provided valuable information on the practical application of the Succession Regulation. In addition, 65 notaries, selected on the basis of their level of expertise in the field of cross-border successions, were consulted, bringing a wide range of perspectives to the project. The involvement of institutional stakeholders also ensures that the project embraces the full scope of the regulation's impact.
The data collected was analysed and the following documents were produced:
– Final study on the application of the Succession Regulation
– Recommendations for better application of the Regulation
– Executive summary
The results of the project will be of great interest to policy makers and practitioners across the EU, helping to guide future efforts to improve the operation of the Regulation and its impact on citizens.
MAPE Interactive Dashboard
–
One of the three data collection tools developed as part of the project is the "Succession Regulation evaluation questionnaire for notaries". This dynamic, multilingual questionnaire has been designed to measure the practical application and related effects of the application of the Regulation by notaries. This dashboard visualises the most important results of the MAPE survey and can be an interesting tool for notaries, researchers and policy-makers who wish to better understand how the Succession Regulation is implemented in different countries. In fact, the interactive tool allows users to explore and compare how legal practitioners apply the Succession Regulation in different national contexts by providing an intuitive and visually appealing way to explore complex data.
MAPE project: methodology and results - Patrick Wautelet, Professor at the University of Liège
Projet MAPE : méthodologie et résultats - sous-titres en français
MAPE-Projekt: Methodik und Ergebnisse - Patrick Wautelet, Professor an der Universität Lüttich
Progetto MAPE: metodologia e risultati - Patrick Wautelet, professore dell'Università di Liegi