News CNUE, 11 September 2023
30th anniversary of the Latvian Chamber of Notaries – Riga, 8 September 2023
–
On 8 September 2023, the Latvijas Zvērinātu notāru padomes (the Council of Sworn Notaries of Latvia) celebrated its 30th anniversary in Riga with a conference on artificial intelligence themed "Notary 2030". High-ranking officials such as the Parliamentary Secretary of the Ministry of Justice, Ms. Lauma Paegļkalna, the Chairman of the Council for Justice, Mr. Aigars Strupišs, and the Deputy Head of the Office of the President of the Republic of Latvia, Ms. Dace Pelēkā, welcomed the guests. They emphasized the importance of notaries in a democratic state based on the rule of law and underlined the frontrunner role of the Latvian notariat with regard to digitalization. Additionally, Jānis Skrastiņš, the President of the Council of Sworn Notaries of Latvia, and Dr. Peter Stelmaszczyk, the current President of the Council of Notariats of the European Union (CNUE), addressed the participants.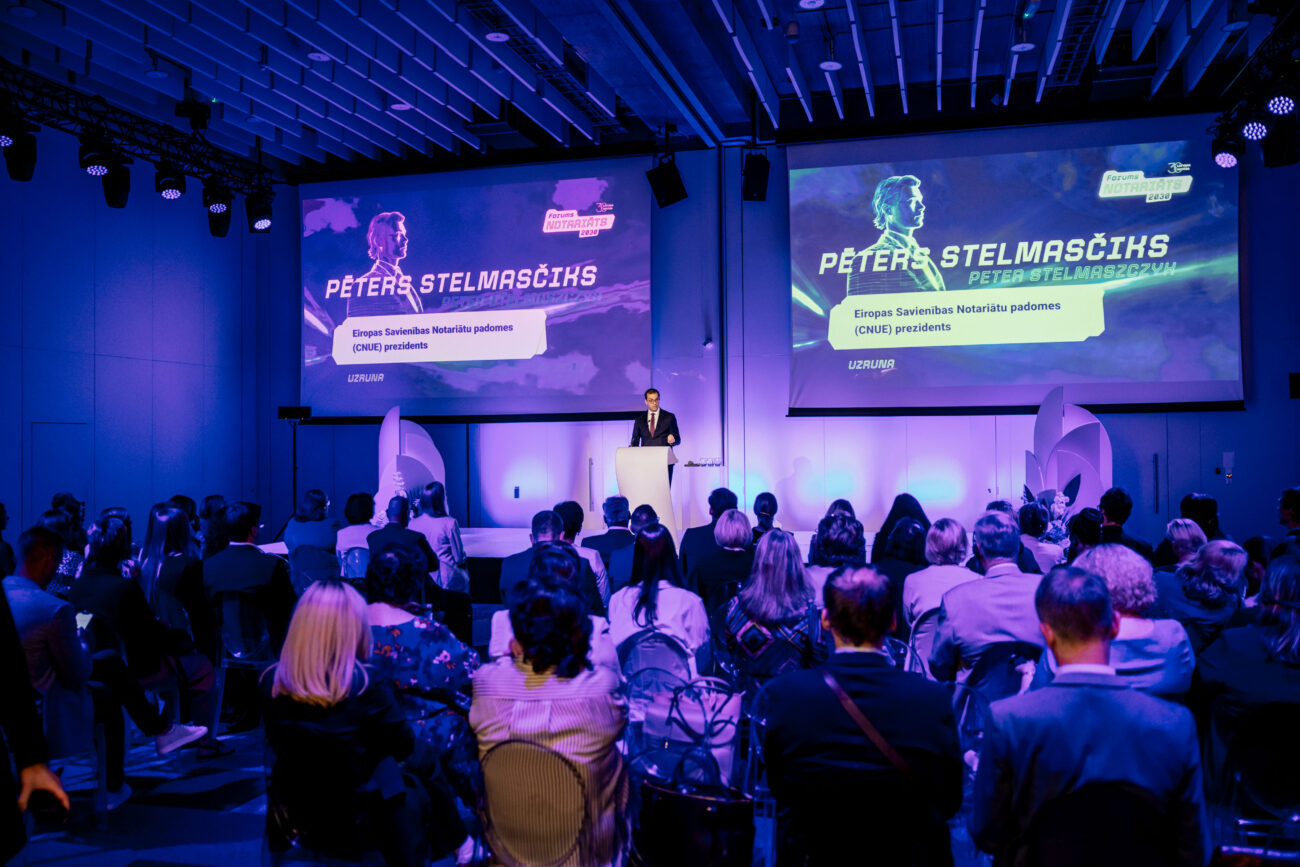 In his speech, the CNUE President highlighted the trusted relationship between the Latvian and the German notarial chambers. This year's German CNUE Presidency closely cooperates with the Latvian notariat, which had the right of nomination for the Presidency. He also addressed the effects of digitalisation, both in terms of statutory development and day-to-day notarial work. He advocated to actively shape the debate so that opportunities can be realized and risks countered. Ultimately, however, legal certainty and trust must always be ensured – these are indispensable elements of the notarial work.
Following the speeches, experts provided their insights, first with Ms. Lauri Donahue, technology and entertainment attorney and co-founder of the Harvard Journal of Law and Technology on "Artificial Intelligence and the Future of Law", then notary Prof. Dr. Axel Adrian on "Artificial Intelligence in Notary Work in Germany", who presented a research project on the use of artificial Intelligence in the preventive administration of justice, and last, the Italian notary Ugo Bechini on "Artificial Intelligence in Notary Work". The conference was concluded with a pop-up hackathon.